At EZ Covers we have created an easier and cheaper way to cover school exercise books.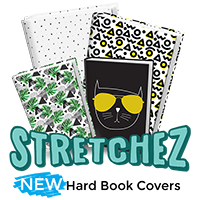 Browse & Buy Book Covers

Thank you for making it so easy to cover my kids school books. All done within 10 minutes and no messy sticky Contact to wrestle with. The designs are great and can be used year after year.
Kirsten Rasmussen

I've used EZ covers for the last 3 years and love them! They arrived in a matter of days (the week before Christmas - pretty awesome for that time of year) they're so easy to put on....best invention ever!
Emma Murphy

Fantastic!!! Can't believe I waited so long to order book covers. Quality is great and so much cheaper then other sites and stores.
Kelz Roberts

This is my first year of book covers and I'm loving the idea my husband doesn't have to sit down for hours on end trying to contact 40 books for our 3 boys.
Cassie Penn
Calc
Cover Calculator
To work out the correct covers for your
books enter your book codes below (eg
1B5). One code per line.
Top
Are you tired of the same boring old identical exercise books year after year? Make the change and make them stand out with our awesome range of school exercise book covers from EZ Covers Australia. Read more...
We have over 40 plus designs to choose from to make your kids' books stand out from the crowd. From Swirls to Owls, Emojis to Stripes. We've got you covered!
EZ Covers guarantees the best quality school book covering for the best price, with an array of protective, practical and well-designed sleeves that will fit all your exercise books. Proudly Australasian made and 100% PVC-free and all are resuable!
Browse our range of school book covers above and place your order today!