You don't need special powers to learn how to cover a school book. Unlike stick on covers, book covers from EZ Covers take only seconds to slip on. All you have to do is follow these four easy steps – its so simple even your kids can do it! Watch the video below to see how EZ our covers are to put onto your exercise books.
Step 1
Slide on the front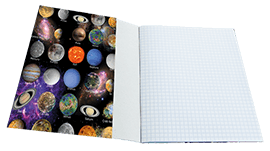 Step 2
Slide on the back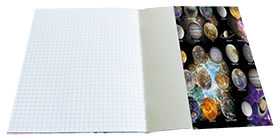 Step 3
Done, easy peasy...
Step 4
...lemon squeezy!
A book cover from EZ Covers is like a jacket for your child's exercise book. If you pick the right size, it should fit snugly and protect the exercise book from unwanted tears. Our covers provide a perfect fit; no bubbles or creases. Not only does it shield your child's exercise books, it also gives them a little bit of colour and fun.
Don't forget that with stick on book-covers it can take most of the night to cover one child's books. With EZ Covers your children can even cover their own.
Stick on covers can end up looking like a mess if attached incorrectly, and because the sheets are glued to the exercise book cover with adhesive, they are more prone to unbound edges and further damage. There are no re-dos with an adhesive stick-on cover.
You'll only get 2-3 exercise books covered from a standard metre roll of adhesive covering. At up to $5 per roll that's a high price to pay!
EZ Covers make it super EZ to cover a school book. Order EZ Covers for your kids' school books today!
"I just want to RAVE RAVE RAVE about the brilliance of this business! Firstly the service from your website through to delivery of the product is second to none. I ordered enough covers for my three children late Thursday night and they arrived first thing Saturday morning, unbelievably quick turnaround times - thank you"! - Jacqs McCorkindale, Auckland
"I just wanted to say how impressed I am with your covers, and most importantly your service. I placed an order on Wednesday evening (I am hopeless on the computer and yet the site made ordering a breeze), and received my covers in Friday's post-less than 36 hours later! The job of covering 31 books took more than 4 hours with Contact last year, but only 15 mins today. I then sat with my phone telling anyone I could think of of this amazing find!" - Emma O'Sullivan, Petone
"What can I say...FANTASTIC... EZ Cover has saved me SO much time - 13 books covered in 5 mins; no bubbles, rips or wrinkles. Fast delivery and wonderful product with free book labels included! Thank you, thank you, THANK YOU!" - Karin Donovan, Wellington
"I covered the boys 10 books in about 5 mins tonight, instead of it taking me hours and the books looking like a wrinkly mess! THANK YOU SOOOOO MUCH - what a fab product!!!" - Trudi Harding, Wellington
"I loved watching the children put their own book covers on and me not having to take all evening to get that job done!" - Tracy Walker, Christchurch
"My order arrived on Saturday. . .wow. . .I just wanted to extend my very grateful thanks for your amazing customer service!! I absolutely love these covers and so do the kids! Can't wait for the stationery packs to arrive now so I can get covering. There's not very many companies out there anymore that have the same top quality service you and your company has delivered to us. I'll definitely be back to buy more when the time comes!!" - Renee Cooper, Wanganui
"Thank you Bryce. Covers have arrived and are brilliant! What a great creation" - Janet Wharfe, Whangarei
"We were very impressed with the service and delivery. The books were covered promptly by my 10 year and she sorted out the labels for the books. It is such a great idea and I would recommend this to anybody" - Samantha Easson, Waiuku
"After struggling with coverseal last year and swearing "never again" these are fantastic. Thanks for your prompt service, I'll let my friends know how great these are." - Amanda Haldane, Christchurch
"My book covers arrived today. Just wanted to let you know I'm very pleased with them. What a great time saver at an awesome price" - Rebecca, Ashburton
"I like the environmental aspect about these covers, I can re-use them and when the kids grow out of the designs I can recycle them" - Christine, Wellington
"Our School is using this as a fundraising venture, and we don't have to do anything. No admin, no checking, no collecting we just gave the kids the website address" - Rosie, Palmerston North
"I wish someone had thought of these years ago, all those nights wasted sticking covers on school books. Then more books would arrive & you had to buy a whole new roll for one book!" - Chris, Auckland